We regularly give lectures and join programmes, check out our facebook for upcoming events!
Lectures
We give lectures at various events and locations to explain what degrowth is all about. If you are interested in a lecture be sure to contact us.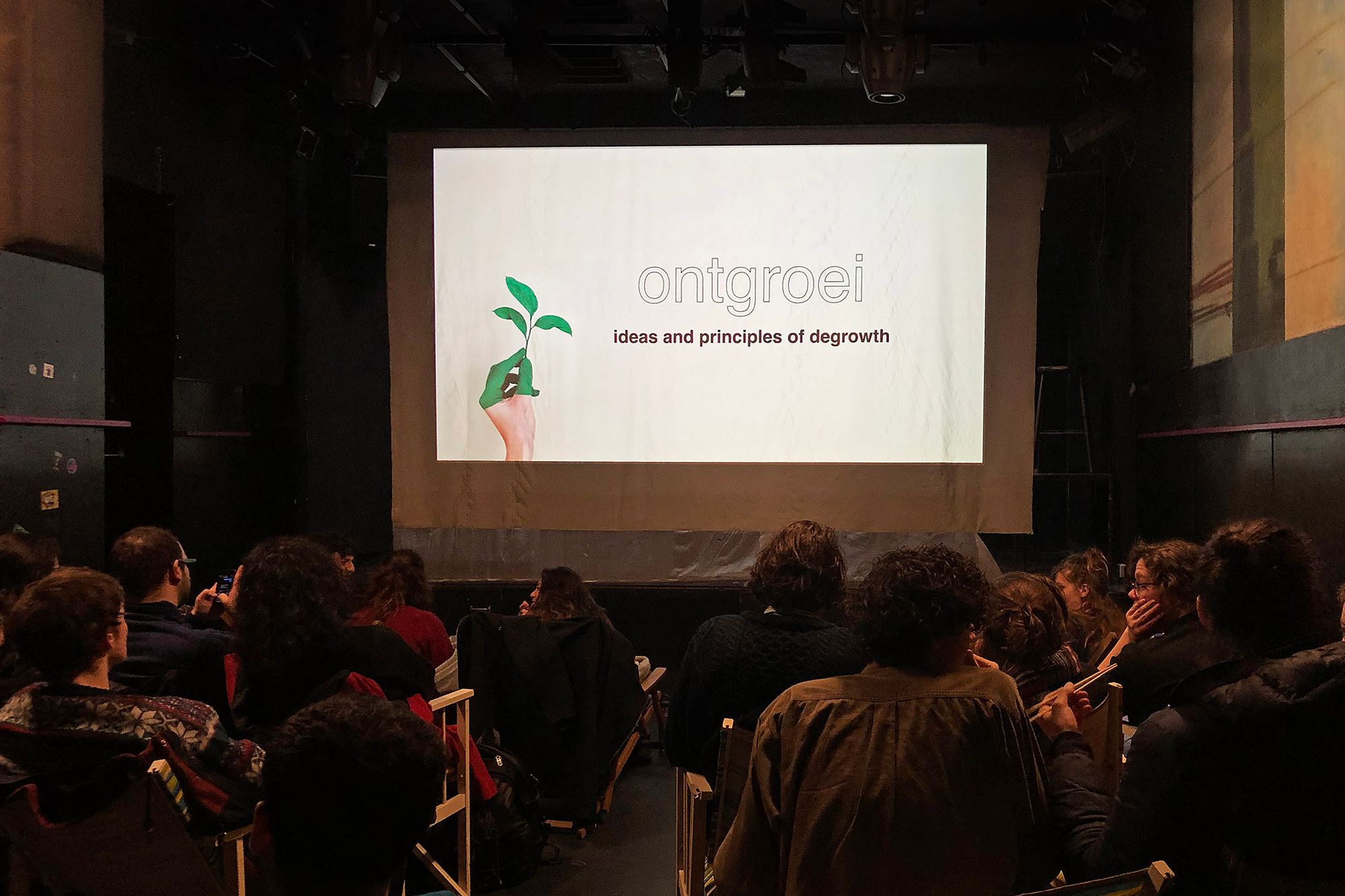 Degrowth day
Degrowth Day is a global event that takes place every year in the beginning of June. Its purpose is to gather people and share alternatives to a growth based society. Everyone is encouraged to participate in local activities or organize these activities themselves!
In 2019, we decided to go from Utrecht to Amsterdam to the Food Autonomy Festival. Click here for more information.
The 1st Utrecht Degrowth Symposium took place on the 28th of June 2019. It aimed to introduce the paradigm of degrowth to the Dutch academia and civil society, through a half-day event of lectures, panel discussions, and informal interactions. The event focused on two overarching questions: What is degrowth? What does degrowth mean in practice? The event was hosted at Utrecht University Uithof campus. For a summary of the lectures, video recordings of the lectures and their respective slides see here.
Degrowth symposium 2020
On the 15 of May 2020 the Second Utrecht Degrowth Symposium: From Circular Economy to Circular Society was held online. The event had over 1500 registrations from various sectors including academia, NGOs, public sector, private companies. Some of the key discussion topics included the current challenges of the circular economy concept and the need to go beyond market-based circular solutions. This demonstrated the necessity to think of fair and regenerative circular society rather than simply an eco-efficient circular economy.
Degrowth conference 2021
In the Summer of 2021, the Hague will host the 8th International Conference on Degrowth for Ecological Sustainability and Social Equity. The conference will gather researchers, activists, artists, and practitioners who will debate on a variety of topics. The general focus will be on healthy communities – politically, ecologically and psychologically. There will be presentations and open workshops, but also story-telling, poetry, and music. It will take place over five days at and around the International Institute of Social Studies (ISS), an organization with a long-standing tradition in social justice and critical development studies.
The Masterstudio Future Cities
The Masterstudio Future Cities is a creative and experimental environment where to rethink social, economic and ecological change beyond eco-modern prototypes. The Studio is an experiment in degrowth pedagogy: it addresses each year a theme related to degrowth and uses a format that moves beyond the quantitative and competitive evaluation of established higher education. Past editions have addressed urban commoning, circular society, convivial information technologies, local cultures, food. It is organized according to principles of engaged scholarship, horizontality, conviviality and collaboration. The Studio is officially part of the MA Urban and Regional Planning at the University of Amsterdam and takes place each year in January. The lectures are open to external participants at no cost (previous registration via the website).
photo: 1st degrowth symposium in the Netherlands, 28th of june 2019 in Utrecht